Ice Fishing Outfitters Bait & Tackle

"Hottest New Lures" & "Wild Action Spoons"

Fully stocked Bait & Tackle Shop.

We sell live bait, minnows and maggots.

Open during the Ice Fishing Season

Located above the boathouse at the end of Hadden Rd.
Access from the lake.

Buy your live minnows with us with "Mike's Big Scoop".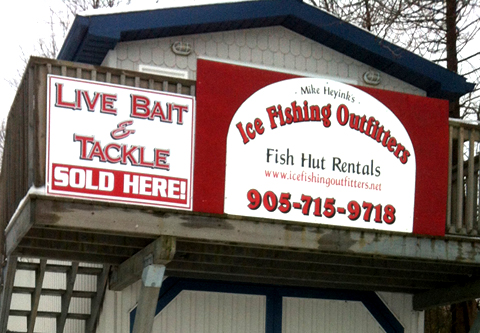 Ice Fishing Huts
We also rent insulated ice fishing huts that are heated by vented propane furnaces. Each hut is supplied with padded benches and a bucket of minnows. For more details visit our Ice Hut Rentals page.

Our huts are located on the Legendary fishing grounds around Georgina Island. The Perch and Pike grounds are located south of Georgina Island in depths ranging from 10ft to 20ft.

Ice Fishing Outfitters
Bait & Tackle
15 Hadden Rd., Sutton
ON L0E 1R0
Contact : Mike Heyink
Phone: (905) 715-9718

Web: www.icefishingoutfitters.ca