Ice Fishing Outfitters

Lake Simcoe is considered the fishing Capital of North America, with it's unyielding reputation of having the best fishing year after year. Not only does the lake provide World Class Fishing, it offers a great chance to catch a Trophy Fish of a life time!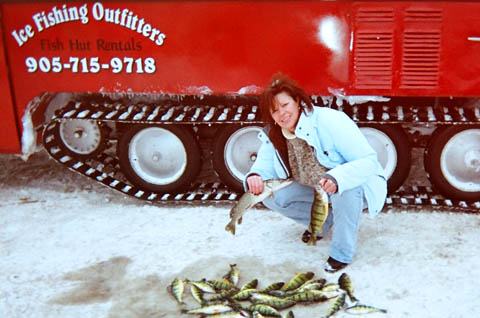 Owned and operated by Mike Heyink, a second generation Operator. Mike has over 35 years experience as an Ice Fishing Outfitter on Lake Simcoe. When Mike was born, his Father had already established himself as an Ice Fishing Operator for over a decade. Mike grew up on the ice. Being a second generation Hut Operator and life long avid Fisherman and Hunter, Mike offers a lifetime of experience to his customers. Years of summer and winter fishing have resulted in an unsurpassed personal knowledge of the entire southern half of Lake Simcoe. He was taught the old school techniques from a long line of Fishermen year after year. Mike has combined top producing methods for quality results. Being a Lodge Guide in Northern Ontario has only added to Mike's experience and stressed the importance of a successful, safe and comfortable Fishing Adventure.

If you are in the need of something that you forgot, ask us, we may be able to help. We want you to enjoy the experience. We want you to be comfortable and have fun, so come dressed for the weather, bring your friends, tackle and your lunch.
Ice Fishing Huts
Our huts are located on the Legendary fishing grounds around Georgina Island. The Perch and Pike grounds are located south of Georgina Island in depths ranging from 10ft to 20ft.

We provide clean, comfortable, insulated huts that are heated by vented propane furnaces. Each hut is supplied with padded benches and a bucket of minnows. Visit our website www.icefishingoutfitters.ca for more information.


Transportation
Your ride to and from the hut will be in our heated Bombardier, fully equipped with GPS navigation, or sleigh.

Rates:

Our rates are per person
Daily Hut Rentals
Perch & Pike
$50.00 / person

(Children 12 & under $25)
Ice Fishing Outfitters
15 Hadden Rd., Sutton
ON L0E 1R0
Contact : Mike Heyink
Phone: (905) 715-9718

Web: www.icefishingoutfitters.ca