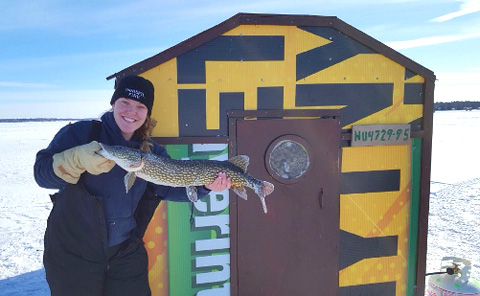 Lucky's Sons Ice Huts


Lake Simcoe Outfitters Ltd.



Experience Nature At Its Best!

40 minutes north of Toronto on beautiful Lake Simcoe
Open 7 days a week
Day Huts and Bungalows
Large cozy heated huts (propane or wood heat)
Catch trout, whitefish, perch and pike
Deep and shallow water fishing
Washroom facilities on site

Our Ice Huts & Services
Our huts range in size and can fit 2-8 adults comfortably. All have wooden floors and an opening in the floor that leads to the the pre-drilled fishing holes - all you have to do is bait your rod and drop it in.

You are welcome to bring your own lunch, cook in your hut on the stove, or order a pizza and have it delivered to your hut by our friendly staff (WEEKENDS ONLY).


NEW ICE FISHING BUNGALOWS now available!

8X16 ICE BUNGALOWS (sleeps 4)
RESERVE NOW SO YOU WON'T BE DISAPPOINTED!

Lucky's Sons is now offering overnight ice hut rentals. We have SEVEN 8X16 bungalows designed to sleep four per hut. Huts have either bunks or thick benches covered in foam for greater comfort. All bungalows come equipped with a two burner propane cook stove, lighting, and picnic table. There is an unheated outhouse available on the lake exclusively for the use of the overnight huts. For larger groups there is the option of putting huts side by side.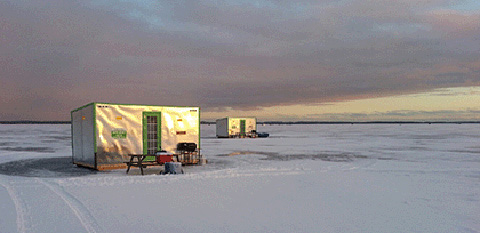 Group rates and private tournaments
We can accommodate large groups for a fun day of ice fishing. Call us today to organize your tournament or special event.

We offer special group rates (parties of 20 or more)to make it a great day of fishing for everyone.


Cottage Rentals
Lucky's Sons are pleased to recommend year round accommodations.
Come stay close by at a fully equipped, newly renovated cottage for the week or just the weekend
Perfect for your fishing trip; sleeps
up to 9 people comfortably
Fully equipped with fridge, stove, microwave, coffemaker, and fireplace.
Conveniently located steps to the lake.


For more Information visit our website www.SimcoeIceFishing.com


Lucky's Sons Ice Huts
Lake Simcoe Outfitters Ltd.

Lefroy / Innisfil, Ontario
Contact : Sarah Paiero
Phone :

(705) 456-9039




Send Email


Location
There are two possbile meeting spots depending on hut location (and where the fish are biting!) Upon making a reservation for ice fishing you will be told which spot to meet your guide. You will be required to meet us directly on shore.