The Reel'em Inn - Lake Simcoe

Your fully furnished, 4 season cottage, over looking the Pefferlaw River, only 55 minutes north of central Toronto, on the south shore of Lake Simcoe, has all the amenities you need.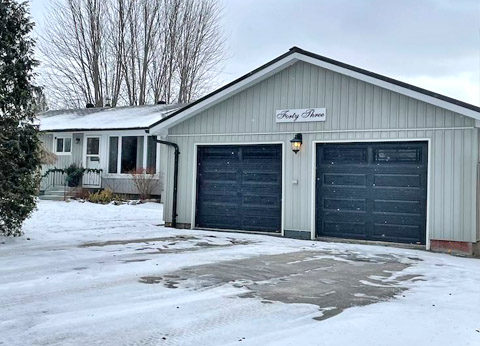 Whether you are fishing by boat, or ice fishing. Lake Simcoe offers a world renown fishing experience, fish for trout, whitefish, pike, bass and Simcoe's famous jumbo perch.
Heated man cave garage, cleaning & cooking fish station, bar, TV, dart board & stereo!
You will have access to the Pefferlaw River which freezes at the very end of the dead end street. For ice fishing there are many excellent fish hut operators within 1 km and a ramp to the ice for direct access to Lake Simcoe

The Reel'em Inn, please Text or Call 905-806-2685
Only $60/person per night

Minutes away from some of the Best Jumbo Perch Grounds in Lake Simcoe.. Enjoy a day of ice fishing, head out on your own
or Book a trip with a hut operator.

Local Fish Hut Operators / Bait & Tackle

Randy's Huts 705-437-2989 (Port Bolster)
Dave's Huts 905-722-3372 (Virginia)
Mitchell's Fish Huts 705-426-9482 (Beaverton)
Tim Hales Fish Huts 705-426-9669 (Beaverton)

Kyle's Bait & Tackle 289-338-8777 (Sutton)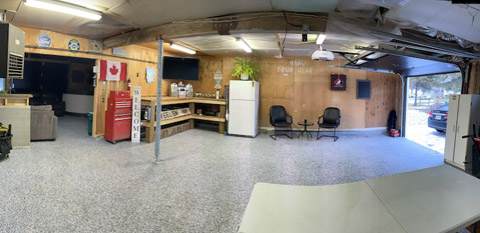 Panoramic View of the Inside of the Garage

Features:
2 Bedrooms - Sleeps 6
4 singles in one room & a king in the second bedroom

1 Bathroom, 3 piece

Large Living Room

Large Kitchen Fully Equipped
Fridge, Stove, Microwave, Kettle, Pots, Pans, Utensils & more..

Large Heated Garage, cleaning & cooking fish station, bar, TV, dart board & stereo

Big Driveway with lots of room for Vehicles, Trailors, Snowmobiles, and ATVs

Thank You For Inquiring, Please Call For Pricing



The Reel'em Inn
43 Regent Street
Pefferlaw, ON L0E 1N0

Lianne Glover
Telephone: 905-806-2685


Send email