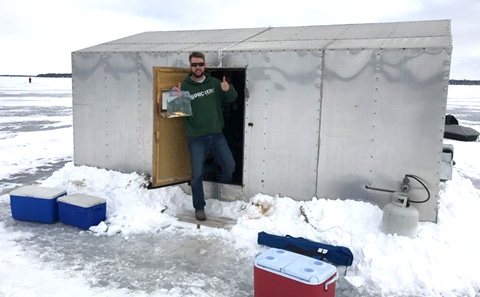 Fishsimcoe Hardwater Outfitters

We are located on Cook's Bay, off of the 2nd line of Innisfil, just 45 mins north of Toronto.
We are open 24 hours a day and 7 days a week.
Our family has been fishing on Lake Simcoe for 4 generations. We know the lake and will catch you fish!
All of our huts are located in the perch, pike and herring grounds.
We offer day huts as well as overnight bungalows.
We have day huts of all sizes. 2 man huts all the way up to 12 man huts. For day trips we can accommodate almost any sized group.
We have overnight accommodations for up to 12 people.
We also rent fishing rods and reels as well as fish finders, depending on your needs.
Included in your rental fee:
Live bait (minnows)
Covered sleigh ride to and from your hut
Well insulated hut
Propane heat and cook top
Frying pan
Access to washroom facility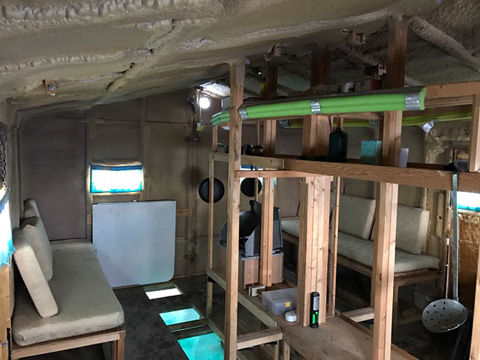 Overnight bungalows also include:
kitchenette
BBQ
Outdoor fire pit
Our rates are $60 per person for day rentals.
Children under 12 are $25.
Our overnight bungalow packages vary in price, depending on group size and length of stay. Please contact for details.

You can contact us through phone or txt at (705) 984-5853
or

email us
We here at Fishsimcoe Hardwater Outfitters, love to fish and love even more to get others out to enjoy the sport of ice fishing. Whether you are an experienced angler or trying ice fishing for the first time you will be in excellent hands. If you are a first timer we will show you everything you need know to catch fish.
We pride ourselves on our extremely well built huts. We build our huts with an eye for detail. They are clean, spacious, well insulated, warm, comfortable, and set up for fishing!
Our goal is to make sure you have the best and safest experience possible! We cater to your needs from the moment you leave shore to the moment we take you back to land.
Hope to see you on the ice, Luke Ledlie, owner and operator.
Fishsimcoe Hardwater Outfitters

2nd Line
Innisfil, Ontario
L0L 1K0
Contact : Luke Ledlie
Phone : (705) 984-5853



send email